FISSURE
If you are dealing with the discomfort and pain of a fissure, consider our Fissure Treatment in Pune. We provide top-notch medical care in a comfortable, patient-centric environment. Dr. Vikram Pawar has experienced specialists use modern therapeutic techniques to offer the most effective treatment. This non-surgical procedure, paired with our post-treatment care, ensures a swift and smooth recovery. Reach out to us and experience comprehensive care like never before in Vitthal Piles Clinic.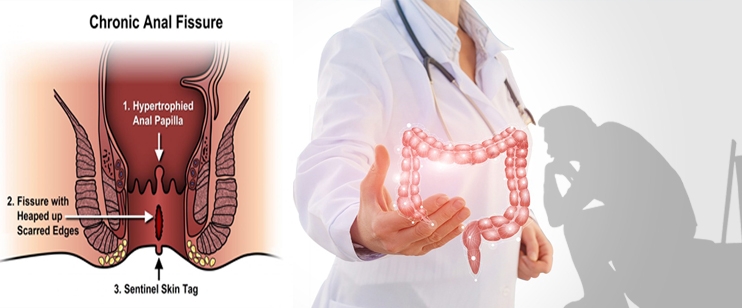 It is a disease which occupies 70%of anorectal case. It is linear ulcer in anal canal. Due to hard stool and increased distal girth of stool cause linear tear at anal verge. It is very painful condition. The pain is caused by spasm of sphincter muscles.
An anal fissure, fissure in Ano or rectal fissure is a break or tear in the skin of the anal canal. Anal fissures may be noticed by bright red anal bleeding on toilet paper and undergarments, or sometimes in the toilet. If acute they are painful after defecation,[1] but with chronic fissures, pain intensity is often less. Anal fissures usually extend from the anal opening and are usually located posteriorly in the midline, probably because of the relatively unsupported nature and poor perfusion of the anal wall in that location. Fissure depth may be superficial or sometimes down to the underlying sphincter muscle. Untreated fissures develop a hood like skin tag (sentinel piles) which cover the fissure and cause discomfort, pain.
OTHER COMMON CAUSES OF ANAL FISSURES INCLUDE :
Ichildbirth Trauma In Women
ICrohn's Disease
Iulcerative Colitis
IPoor Toileting In Young Children.
SYMPTOMS :
IPainful Defecation
IBleeding Per Rectum – Streak On Stool Or Drops
IHard Stool
IUnsatisfactory Motion
IMass Around Anus
TREATMENT :
Injection Treatment
Anal Dilatation
Lateral Sphincterectomy
Non-Surgical Treatments Are Recommended Initially For Acute And Chronic Anal Fissures.[ These Include Topical Nitroglycerin Or Calcium Channel Blockers (E.G. Diltiazem), Or Injection Of Botulinum Toxin Into The Anal Sphincter. Other Measures Include Warm Sitz Baths, Topical Anesthetics, And High-Fiber Diet And Stool Softeners.